By Steve Purdy
May 2022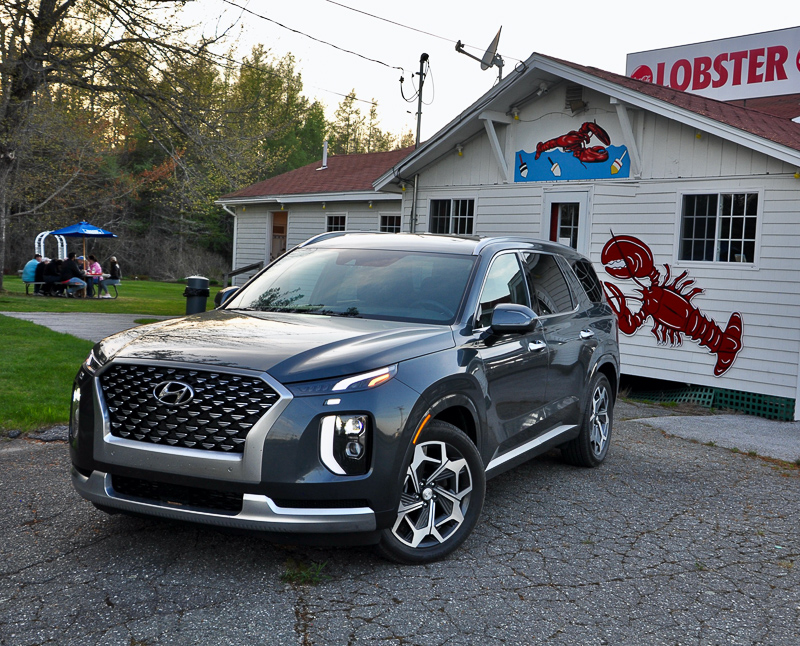 This is our second trip to this lovely and historic strip of Maine coastline centered on Mt. Desert (pronounced de-SERT) Island where Bar Harbor and Acadia National Park draw visitors from around the world. Our road trip companions are Rick and Kim, my pretty wife's brother and sister-in-law, with whom we travel often. They like to explore new places as much as we do, and they've not been here before. Our ride is the comfortable and competent Hyundai Palisade. We present here another travel/car review so you, our faithful readers, can share the trip and car.
Our friends at Hyundai provided the Palisade for this adventure even though they know we'll put about 3,000 miles on it from our world headquarters in south central Michigan to Maine and back, plus a lot of local miles. So, a big thanks to Hyundai for the ride. The Palisade is their 3-row crossover introduced about three years ago and just now experiencing its mid-cycle refresh. (More on that later.) This one is the "Calligraphy," model, top trim level of four, and it's loaded showing a sticker price of just under fifty-grand. First impression, after looking closely at the sticker, is that it's a lot of car for the money. Having reviewed dozens of Hyundai and Kia products over the years I have high expectations for this one.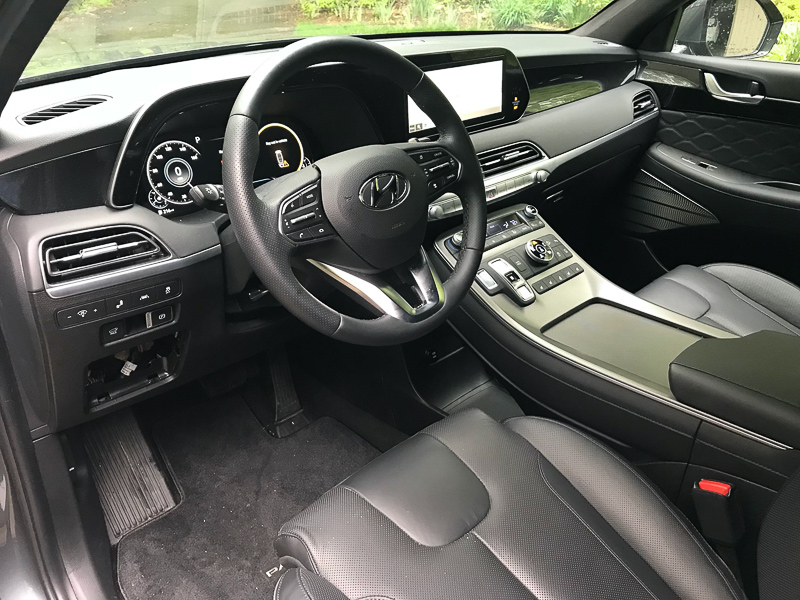 Acclimating to the Palisade was easy as we crossed Ohio, Pennsylvania and New York on Interstate 90. Controls are mostly intuitive, at least for a guy like me used to going from one new vehicle to another. The leading-edge style and design of the instrument panel with large touch screen is mostly intuitive and well annotated. Knobs are used where they ought to be, and the navigation screen is as easy to read as any car-based unit we've seen. Best of all, at least for the girls, is that the car is admirably quiet, making for easy conversation.
Eastbound traffic across New York on that spring Friday afternoon was challenging, not heavy enough to coagulate but dense enough to bring out the competitive instincts of too many drivers. Our Palisade's powertrain and driving dynamics are up to the task of dicing with the brisker flow of this traffic. We could have used the paddle shifters to give us the edge but I find those gimmicky. The "Sport" mode, with more aggressive shift points and quicker throttle response, does a fine job of getting the best out of the nearly-300-hp, 3.8-liter, normally aspirated engine and 8-speed transmission.
Leaving the freeway near Portland, Maine we spent our last three hours of transit time winding east-northeast along Highway 1 as it keeps us as close to the zig-zagging coastline as possible without backtracking into multiple peninsulas. Tectonic, glacial, and erosional forces sculpted this land over hundreds of millions of years making lakes, ponds and bogs bordering rocky, harsh coastlines and deep estuaries. Advancing glaciers more than 10,000 years ago scraped and gouged the landscape pushing up great mounds of rock that eventually broke off into the salt sea resulting in the dramatic rock cliffs that define much of the shoreline. Then the receding sheets of ice sculpted the land further inland.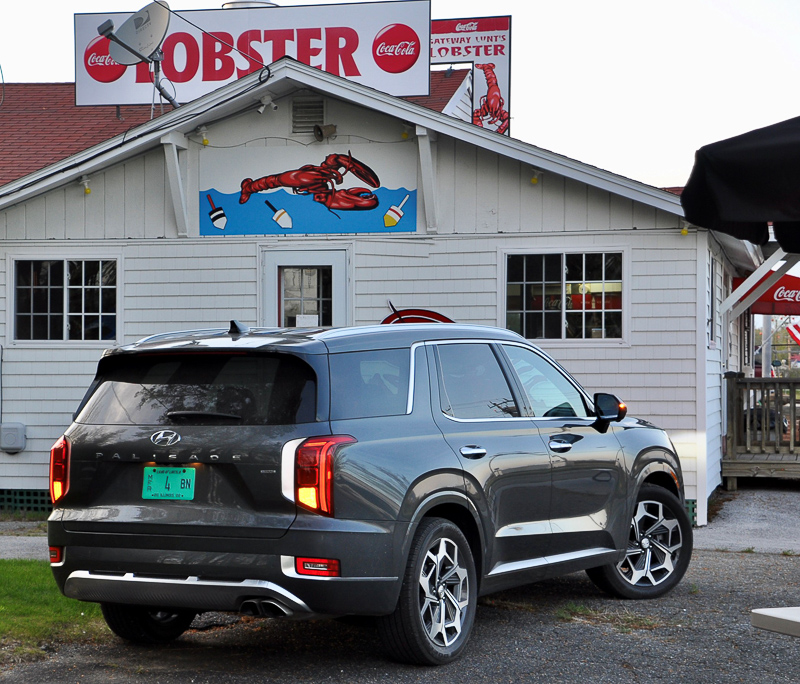 Modern and ancient bridges span major and minor estuaries all along the route as it passes through touristy villages between rural stretches. The transient early people hunted and fished this region then fishing folks began to settle these peninsulas and islands about 250 years ago, when access was only by sea. Many of the fishing villages have become tourist towns, some have been gentrified, but many remain unadulterated by modernity.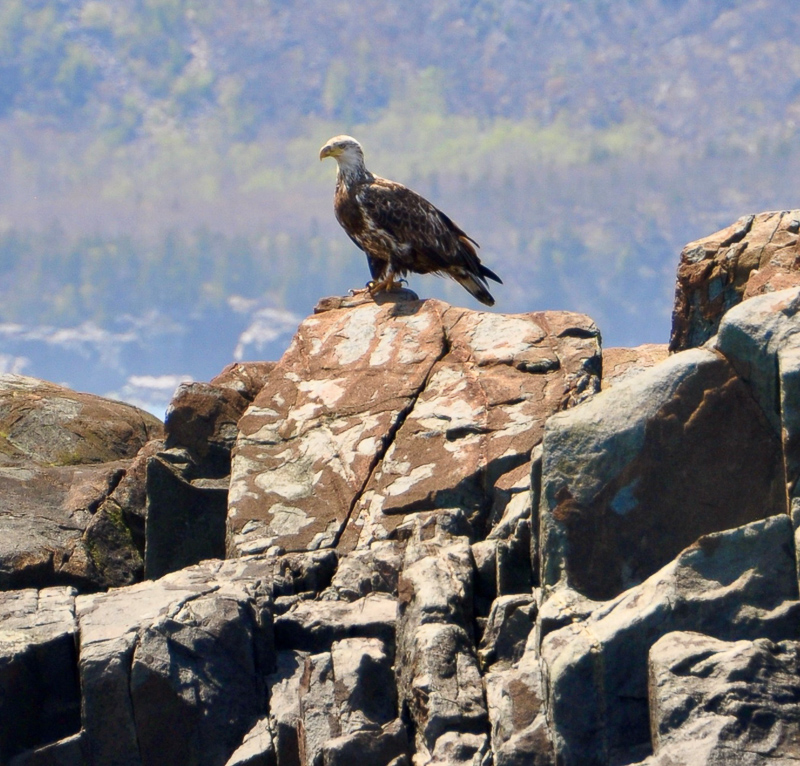 Many hours exploring by car brought us to an appreciation of the Palisade's interior design and execution. Quilted leather seats and door panels add to the "Calligraphy-exclusive" headliner, a classy faux-suede material usually used on the highest-end cars, to present an image of modest luxury. The wide, reclining center stack with HVAC, shifter and other controls abuts a deep bin for cupholders and whatever else you'd like to have at hand. Beneath the center stack a yawning shelf is just right for stowing my big SLR camera with 18-300-mm lens. Behind all that is a cavernous console deep enough to hold an entire picnic lunch if we wanted it to. It looks as if not a square inch is wasted.
Both intended and unintended back-road excursions took us off the touristy paths into purely rural areas characterized by a mixture of well-kept homesteads and a kind of "survivalist" style that manifests in yards full of stuff one might need someday – rusty old trucks, strewn lobster traps, piles of lumber . . . collections of ephemera. Nothing gets thrown away. Many country homes, both the notably humble ones and the more prosperous have a boat and stacks of traps in the yard just awaiting the new lobster season.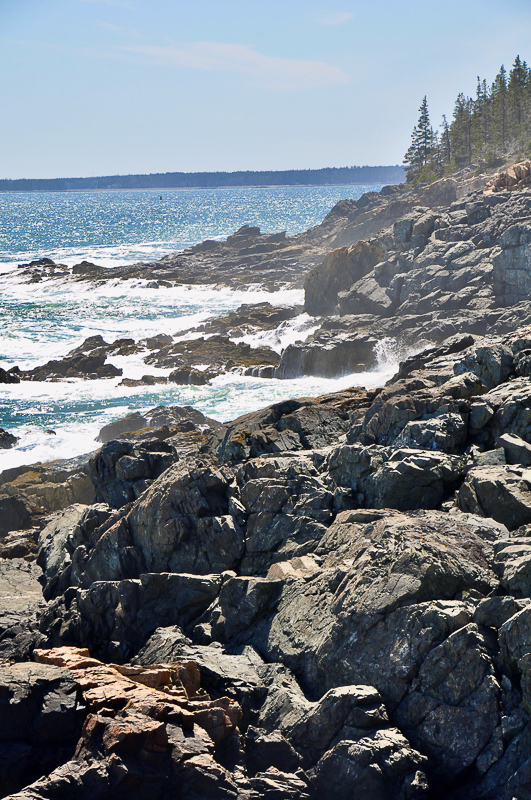 Acadia is the second most visited national park in the country, perhaps because of its proximity to dense populations along the east coast; people who need its drama, beauty and history to provide distraction and respite from the mundane demands of modern life. After all, is that not the most convincing argument for the existence of parks? Fortunately, our visit was a few weeks before tourists began to swarm into the area. We had the 27-mile-long Park Loop Road nearly to ourselves as it winds through and among lakes (called "ponds" here), meadows and forests ultimately emerging on a breathtaking stretch of classic Maine coastline, where even on a calm day waves crash in from the North Atlantic onto the jagged black rocks. Imagine what a thrill it would be to stand upon the rock ledge and witness a summer storm.
Poised at the edge of a scenic pull-off along Park Loop Road where we can see a couple miles of the Atlantic waves pounding the rocks, we take a moment to admire the Palisade's exterior design. Its profile and exterior styling favor boxier trends in CUVs with details that reflect the brand's own aesthetic – no sharp edges and aggressive lines as has become a trend embraced by much of the industry. Big 20-inch, artsy wheels reflect light abstractly. Satin chrome and sparkle in front catch one's eye with a combination of LED tricks. Unexpected accents begin in front extending around the car and include a hidden D-pillar, effective use of satin chrome and soft lighting effects.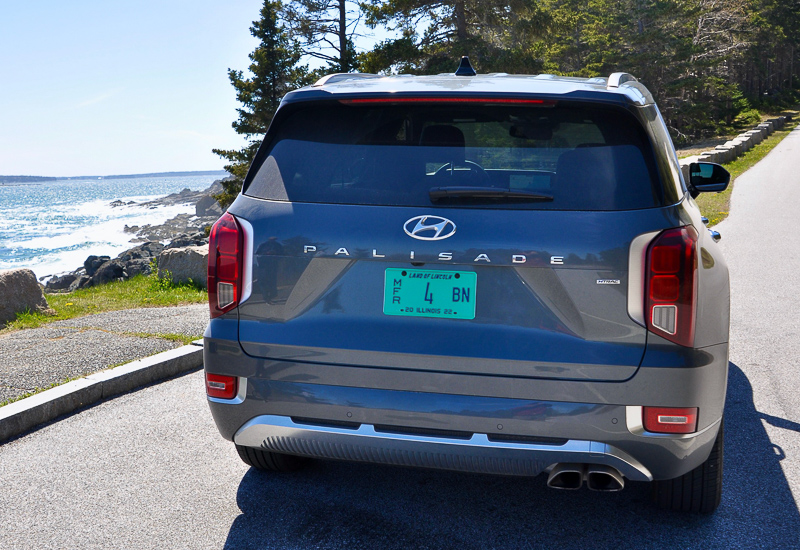 Within Acadia National Park a winding road leads to the top of Cadillac Mountain, a 1,500-foot dome of hard rock forged in the caldera of an ancient volcano. From here the views of the area, at least on a clear day, will take your breath away. Fog and clouds are not unusual, here, particularly pre- and post-season, so pay attention to the weather. In season you must have a reservation to drive up there to see the entire Frenchman's Bay from one spot.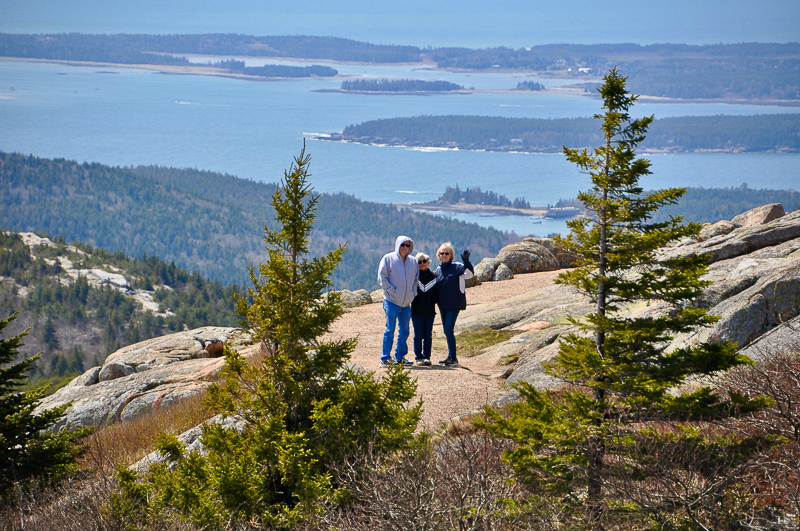 Another of Acadia's claims-to-fame is the complex of "carriage roads," preserved from the earliest days of rich people living there; now used for hiking, biking, and taking deep breaths. Two lakes and dozens of little ponds punctuate the forests and meadows where you'll also find a well annotated public garden featuring local flora.
Mount Desert Island, within Frenchman's Bay, is about two-thirds of the way between the Vermont state line and the end of Maine's coastal stretch. It was named by the first cartographer, Samuel Champlain (of Lake Champlain fame), who was commenting on the deserted look of the bare hilltops. Bar Harbor is the vibrant (in season) intensely touristy village on the east side of the island and filled with shops and eateries. Many are closed in the off-season. We were lucky to run across a local farmers market at the edge of town where venders sell local produce and products. Among them was a young man from whom we bought an unusual local delicacy called "fiddle heads."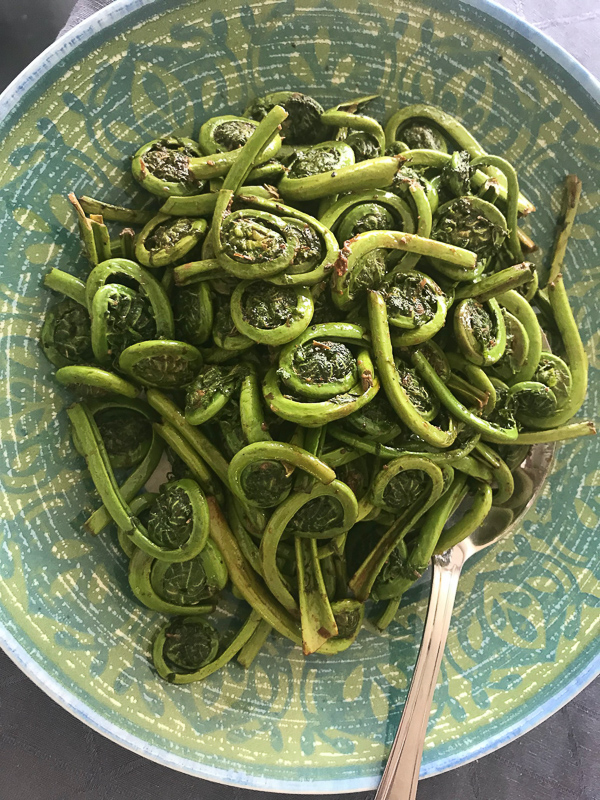 Fiddle heads are the tightly-coiled new sprouts of a fern, in this case an ostrich fern. Other fern sprouts, we're told, can be harmful. Only available for a short time in spring, the locals love them, so of course, we had to try them. We sautéed them in butter just enough to soften them and added a bit of seasoning, treating them like we would asparagus. The result was a slightly crunchy, woodsy-tasting veggie that a couple of us liked a lot and the others, not so much.
To understand the region better we drove up the coast along Highway 1 turning onto each local road leading out to the end of a neck. Near the tip of each, or at one of many coves along the shore, would be a serious fishing village catering not at all to tourists, as does Bar Harbor and other villages down the coast. Small, often very small, enclaves of mostly fishing folks dot the back coastal roads, as we found in the rural areas on the way in.
Lobstering appears to be a rather democratic (small 'd') business around here. It looks like anyone who can buy a small boat and a couple hundred traps can compete and at least make a living. And, judging from what we see along the back-roads, not many are getting rich doing it. Enough folks are doing well enough to sustain and even improve upon, the architectural heritage of some of these tiny villages. Many of the old homes and business structures are well preserved. In our research for the trip we found a reference that said Bar Harbor was a point of demarcation between the down-coast tourist/fishing villages and the up-coast purely fishing oriented.
An anomaly we discovered, with the help of the Maine travel people, was the town of Castine, halfway down the first peninsula down-coast from Mount Desert Island. Its claim to fame is that they've been able to preserve the noble elm trees that were decimated everywhere else by an arborist's nightmare of a disease. We found a small village on a steep slope at the bottom of which a marina defined the tiny cove. At the top of the hill was a large, well-kept, maritime academy, where we saw no sign of life. Throughout the town dozens of tall, stately, graceful elms stood defiantly against the risks. As intriguing was the size and elegance of nearly every home in the village – not one that was small or even modest.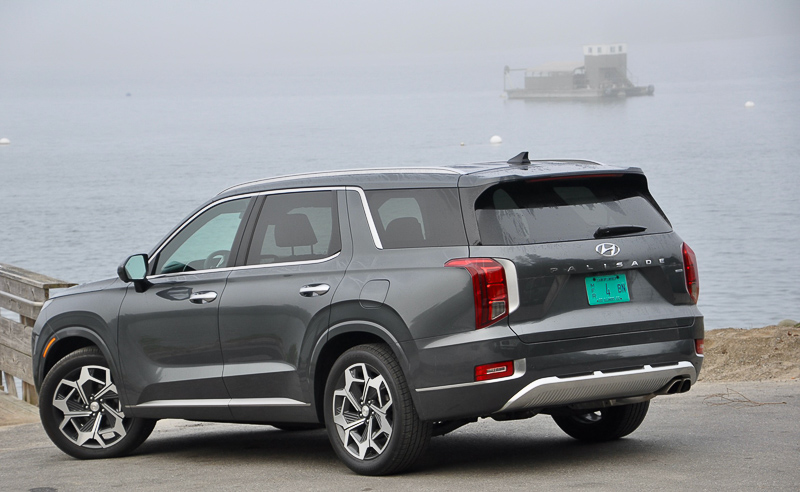 An early morning attempt to photograph our Palisade along the foggy western shore of the island resulted in another discovery. I found in the parking area of the rather unkempt boat launch at Barrett Cove a lovely backdrop. I shot the back of the car against that scenic nautical background then got in and attempted to turn it around, but the parking brake jammed and refused to let go. With visions of needing a rescue I finally got it to release by buckling up. On the way back to the main road a sign pointed to the right and said, "Car Museum, Cars and Coffee Saturday."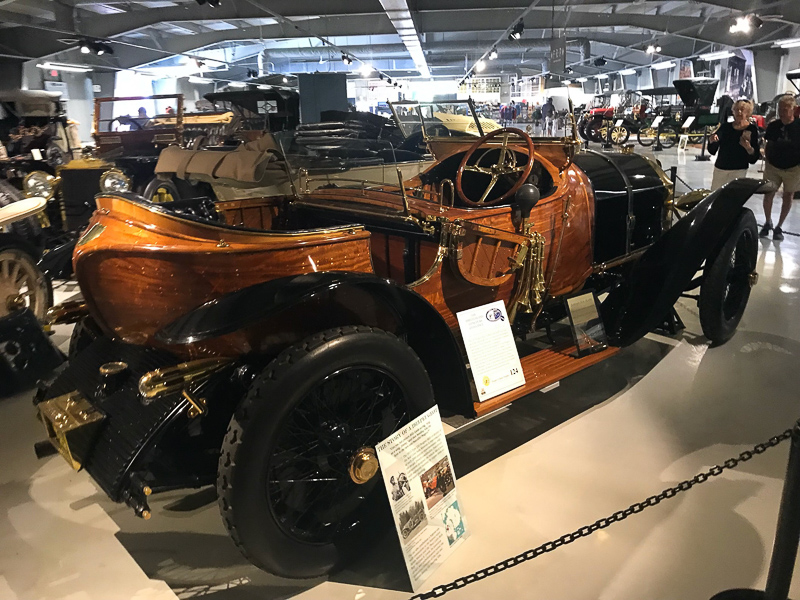 So, of course, on Saturday I went back expecting a small, probably insignificant collection with a few dozen local car lovers bringing their babies to share. What I found was the Seal Cove Automobile Museum, a magnificent collection of remarkably significant early cars (only one car newer than 1917), beautifully displayed and annotated around a theme of the women's suffrage movement. When I saw the story boards on at least three of them commemorating their showing at the Amelia Island Concours d'Elegance, one of the most prestigious shows in the country, I realized I'd seen the name before, but had not expected to find it in an unadorned commercial building in rural Maine. Among the most striking cars in the collection are a big, 1913 skiff-bodied Peugeot, a Locomobile high-wheeler and a plethora of Pierce-Arrows.
Now, back to the Palisade: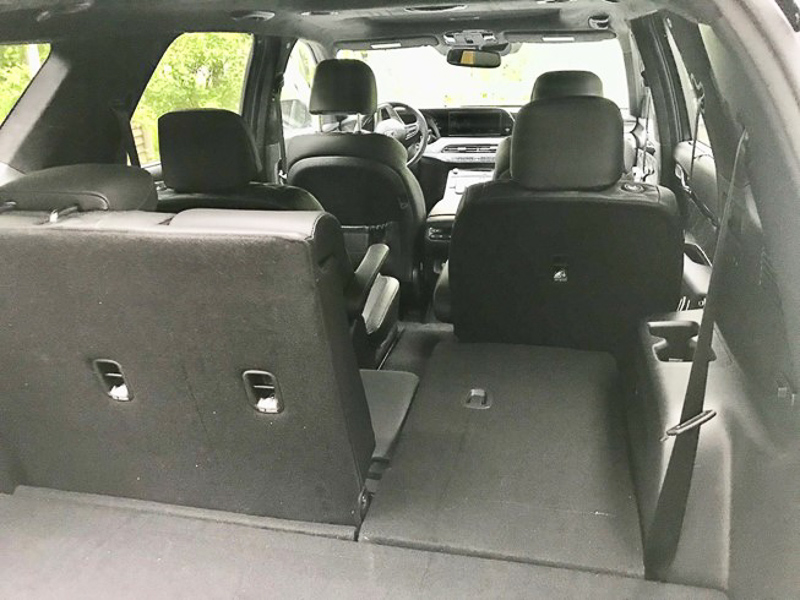 For this party of four intrepid road warriors (he said in jest) the Palisade was more than generous. Our cargo of bags and loose stuff barely took up half the available space. Bucket seats in the second row allowed for a cooler and a good size bag of snacks and other necessaries. The rotating trio of back-seat occupants reported no complaints.
We easily managed 23 mpg average for the entire trip, and found driving dynamics under all conditions (no serious off-roading, though) just fine: plenty of power, aptly applied, quiet and comfortable. I turned off some of the nanny functions, like lane-departure, finding them more annoying than helpful. And, the radar cruise control needs a little more sophistication. But, as I expected, it would be tough to find more for your money among the large, 3-row crossover genre, one by the way with many mighty fine entries.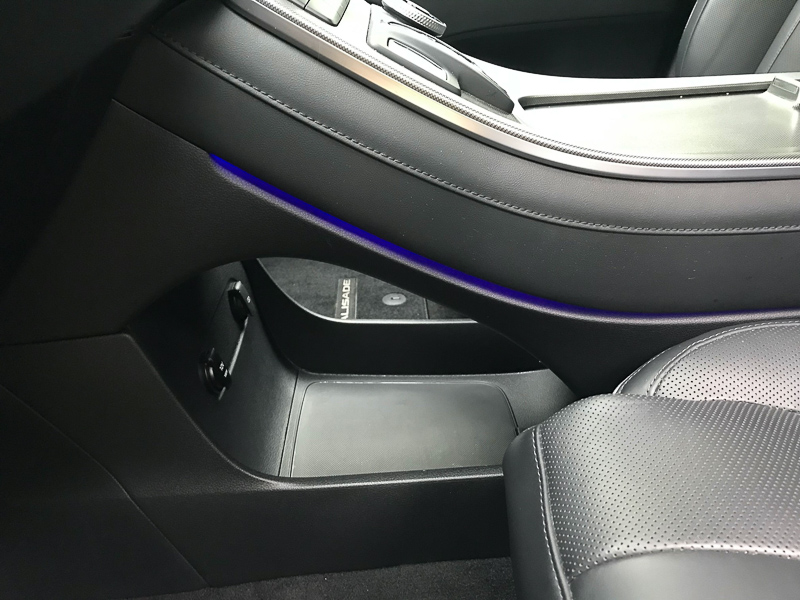 Warranty covers the whole car for 5 years or 60,000 miles and the powertrain for 10 years or 100,000 miles. And, you get 3 years or 36,000 miles worth of scheduled maintenance. "America's Best Warranty," they claim. Let's say "among the best" because some others can match it. It's relevant to note that Hyundai and Kia have been at the top of the J.D. Power Initial Quality Surveys for a few years now.
Palisade's midcycle refresh, shown at the recent New York Auto Show, leaves it unchanged beneath the skin but freshens design details like grill, wheels and headlights. Not much else needs updating, it seems to me. The Palisade, this Calligraphy model particularly, needs little updating.
It's a good-looking, design-rich, content-rich, large crossover for a good price.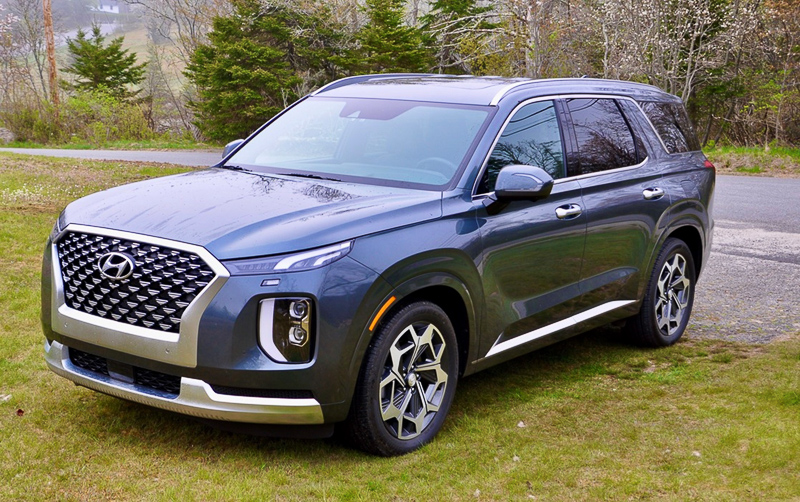 © Steve Purdy, Shunpiker Productions, All Rights Reserved.